BRING I AM HERE TO YOUR DIOCESE OR PARISH
What would it look like if your diocese or parish doubled, tripled or quadrupled Eucharistic adoration attendance? If chapels were overflowing with people seeking Jesus? If hours of adoration had to be increased because interest was so high?
Imagine the transformation of hearts that would take place. Think of the healing, conversion, and revival that would follow.
We want to help you ignite this revival in your diocese or parish.
Inspire people throughout your diocese or parish by sharing local stories of ordinary people who share the difference that Jesus in the Eucharist makes in their lives.

Invite people to come and see Jesus for themselves in the Eucharist.

And when they take the first step and visit Jesus in the Eucharist, help them hear Jesus' words "I AM HERE."
Join I AM HERE and become a diocesan or parish partner.
Your diocese or parish will have its own webpage published in both English and Spanish on

iamhere.org

.

Your webpage will feature the local stories of people from your diocese or parish whose lives have been transformed by an encounter with Jesus in the Eucharist.

Parishes that participate will also receive free materials to promote Eucharistic adoration with their communities.

Parishioners can use I AM HERE meditations for free on the Hallow App to help them get started and guide their prayer during adoration.
5 STEPS TO BECOMING A PARTNER
Email us at

iamhere@aod.org

so we can set up your webpage and provide you with campaign updates over the next two years.

Invite parishioners to share their stories of encountering Jesus in the eucharist at iamhere.org/submit.

We will begin collecting and publishing the stories that are submitted on your parish's webpage

Order your parish's free I AM HERE Parish Kit

in English and/or Spanish to promote adoration at your parish.

Use the stories collected, Parish Kit, and ongoing support to inspire your parishioners to come and see for themselves, the power of spending time with Jesus in adoration.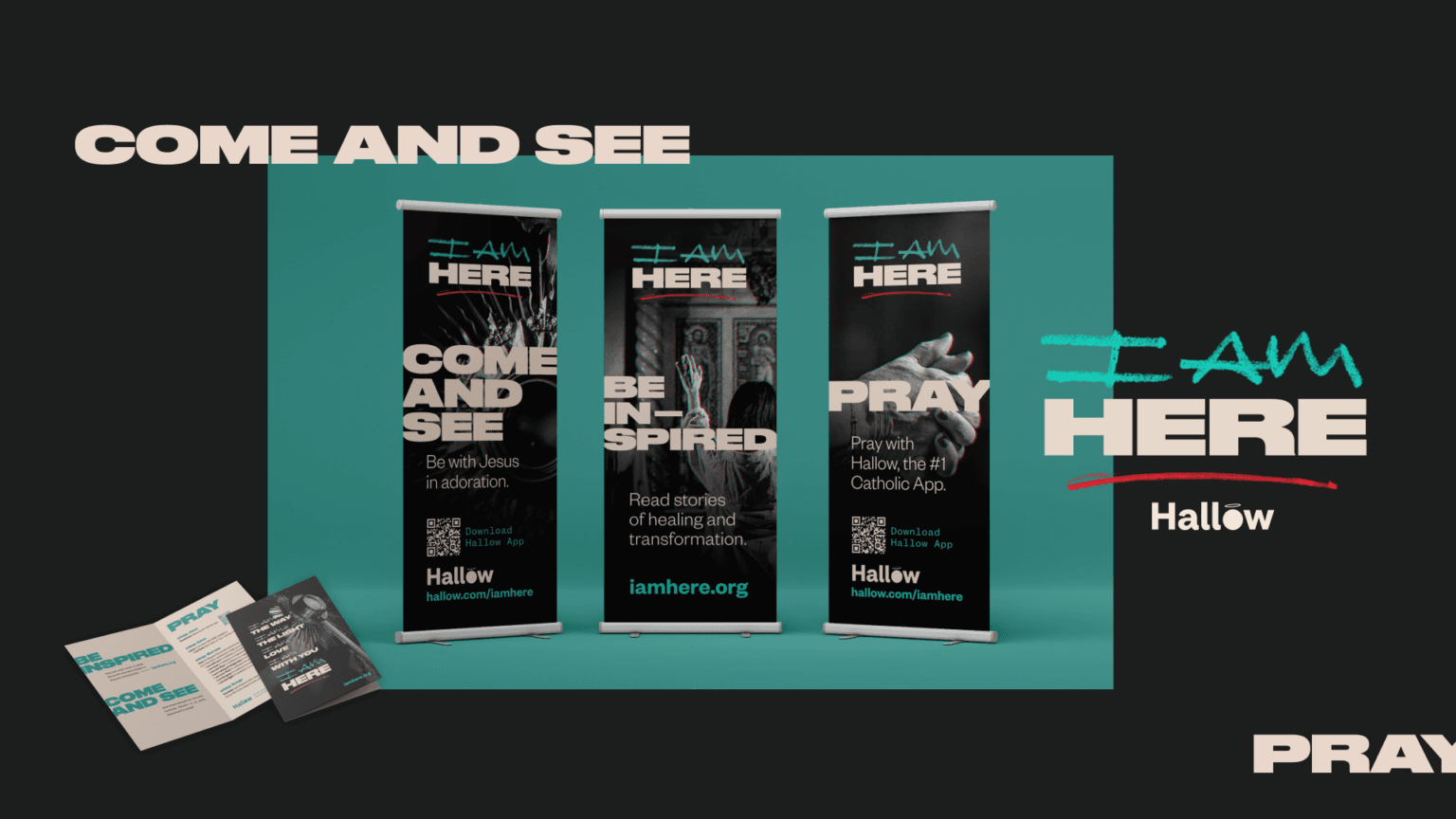 QUESTIONS?
Email us at iamhere@aod.org! We're here for you!